I don't have the biggest and most complete makeup brush collection like some other fellow bloggers and beauty mavens. What I do have though are the makeup brushes I need and in reality, I don't need any more unless one needs to be replaced. I'm also not a makeup brush snob and don't exclusively buy from high-end brands because though they're obviously great quality, I can still find competitively good quality ones from more affordable brands.
Of course, like any responsible makeup brush owner, I have to keep them in good shape and make sure they're cleaned regularly. Aside from using a brush guards to retain their shape and give them added protection, I clean all my used brushes once a week. As I was growing tired of using the old baby shampoo and water trick, especially since I found it time consuming, I decided to finally get myself a proper brush cleaner and bought Jazzy Collection's Make Up Brush Cleaner.
Some of you may be familiar with the James Cooper makeup brand, if you are then you'll know that the Jazzy Collection line is under it. The product comes in a simple, black cardboard box and inside is a 150ml plastic spray bottle.
I was a little disappointed that upon opening it seemed like a little bit was already used up. I'm not sure if all the bottles are intentionally not filled up completely or I really chose one that someone had used or tested out already. Either way, not such a big deal. I'll just remind myself to check properly and compare it with other bottles being sold next time.
I like how the spray nozzle is good quality and delivers a fine, even mist each time so that I don't end up wasting product.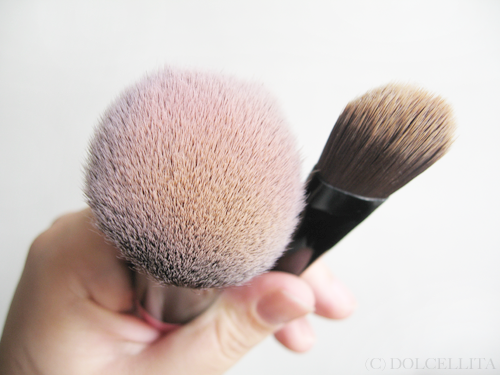 These are what I consider two of my more important brushes: my powder brush from Charm and flat foundation brush from The Face Shop. I use these everyday so they're the ones I need to clean the most. This is how they look after almost a week of use.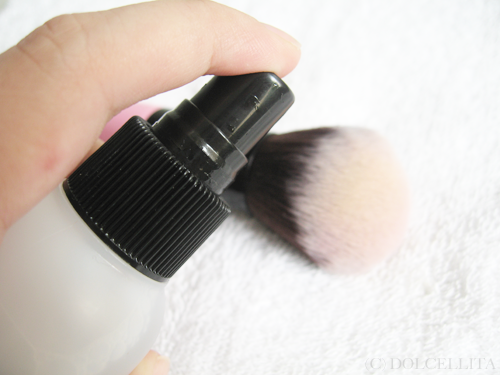 Directions: Spray cleaner directly on tissue three times. Gently stroke brush back and forth over tissue to clean (repeat if necessary).
I do things a little differently from the provided instructions. Instead of using a tissue, as it would eventually be too wasteful, I use a towel. Also, I spray the solution directly onto the brush head itself and then stroke it back and forth on the towel.
This is what happens when I started to clean my powder brush. I specifically use a white towel so that I can see how much cleaner the brush is getting. I repeat the process of spraying and stroking until there's either no more color or very little of it showing up on the towel.
Now my brushes are like new! Compare how clean they are to the previous picture. The solution also leaves behind a faint, soapy smell on the brushes which I don't mind at all. After, I simply lay my brushes on a clean towel and leave them to dry overnight.
Honestly, I'm not too sure if this is the most economical brush cleaner since I can use up a quite a bit of product for just one cleaning session, especially with my bigger brushes or the one I use for my liquid foundation since I need to spray them 5-10 times each in total. I'm starting to think that maybe it would be more practical to buy one that involved me dipping and washing my brush in the solution instead. However, I can't deny that this is a really good brush cleaner and certainly beats my tedious hand-washing with baby shampoo. It's also gentle and I've used it on both kinds of brush types, natural and synthetic, and there have been no damages to my brushes so far (no added shedding, no discoloration, etc.) I'll look into a different kind of cleaner though once I finish this up, just to see if a dip-and-wash type fares better overall for me or not.
WHAT I LIKE:
Cleans all kinds of brushes thoroughly and gently.
Spray nozzle dispenses a fine, even mist.
Brushes aren't soaked in the solution or any liquid so they dry faster.

WHAT I DON'T LIKE:
I find it a little bit pricey for a brush cleaner.

ANYTHING ELSE:
May be less economical than a brush cleaner that involves dipping and washing in a reusable solution.
I have to repeat spray bigger brushes (eg. powder and blush brushes) and brushes I use with liquid products (eg. liquid foundation brush) a number of times to get them as clean as possible. I didn't file this under a feature I don't like because bigger brushes do obviously pick up and hold more makeup in them and the brush for my liquid foundation inevitably ends up with the foundation clinging to the bristles until it's cleaned so I can't really say it's the solution's fault.
Price: PHP399.00, Purchased from: SM Makati