Whenever I look into the mirror prior to applying my makeup for the day, I can't help but always feel a little frustrated because of my skin. Aside from crater-size pores and unsightly blackheads, I see zits of various sizes. Mostly small with a few medium ones here and there and concentrated along my jawline. Despite having a strict and religious skin care routine, I can't stop them from appearing and can't get rid of all of them entirely either.
Don't get me wrong, I have seen many cases which are much, much worse and when I reflect on them I quickly become thankful that my skin problems are mild in comparison. One of these days though I will go see my dermatologist and hope something can be done so I can get my skin looking as clear and healthy as possible.
Deciding to add yet another product to my skin care routine, I bought
Spot On Spot Off Daily Maintenance Acne Fading Gel
from Snoe. When I first got this, it was during a time that my skin was breaking out more frequently so I hoped this could help.
This is from their Shoo-Zit line which has a whole variety of products for treating and preventing acne. I actually have my eye on a few other things from the line too, particularly their Dip & Dry Acne Drying Lotion.
The product comes in a plastic bottle that holds 50ml which actually is quite a lot for an acne treatment since they usually come in much smaller bottles or tubes. I'm really loving the almost vintage theme and color scheme going on with the design.
More product info:
SHOOZIT's Spot On, Spot Off is an acne-fighting treatment gel that controls breakouts, unclogs pores, and restores clarity. It helps eliminate surface bacteria and gently exfoliates to control breakouts, and stimulate cell turnover. This unique formula also helps fade unwanted discoloration caused by breakouts improving skin clarity.
Contains: Crown Wood Fern - a traditional herbal medicine from Korea that inhibits acne bacteria. It will stop inflammation and also acts as an anti-oxidant.
PUREWHITE - a natural whitening and brightening agent. Studies show that it is more effective than arbutin in lightening spots.
Ingredients:Carbomer, Xanthan Gum, Aqua, Triethanolamine, Glycerin, Allantoin, Bisabolol, Niacinamide (vit.B3), Salicylic Acid, Mulberry Extract, Purefix (Dryopteris Filix-Mas Root Extract), Phenoxyethanol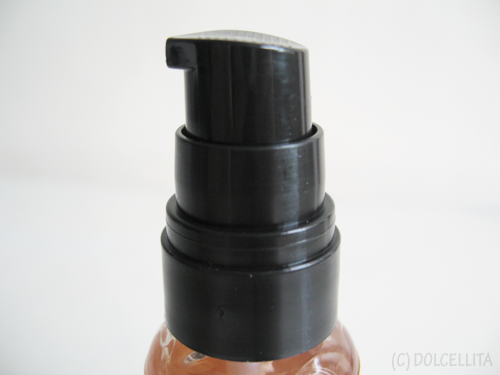 For convenience, the gel is dispersed via a pump which I really like because it always lets out just the right amount for me.
The gel itself is clear and isn't very thick, making it easy to spread and massage into your face. It leaves your hands a little sticky after, but it disappears quickly as it dries. I use a pump and a half for my entire face and apply it once a day at night. It definitely has an almost flowery, baby cologne scent to it, but it's mild.
Directions:Every day after cleansing and toning with other SHOO-ZIT products, massage a thin layer over face and neck or spots. For optimal results, use underneath SHOOZIT's Dip and Dry or Buff the Magic Tonic at night time or during day time. Follow with recommended SNOE SPF products.
----------------------------------------------------------------------------------
I've been using this for well over a month now and I think the most visible result is that it's helped make my breakouts less frequent. It doesn't prevent or control them entirely, or even by a lot, as I still do get a zit or two popping up every now and then. On its own it does very little to take care of zits, whether they're new or old, so I still need to reach for a more specific and stronger spot treatment.
Perhaps
it's helped to calm down the more angry looking ones after a day or two when I do get them, but I can't really say for certain. I also haven't noticed any lightening concerning my post-acne marks.
I guess it's fair to say that I'm kind of disappointed with this product but I can't be entirely since it does help to control my breakouts a little. Basically I'll continue using it until I've emptied the whole bottle but I'm not sure if I'll be re-purchasing it.
WHAT I LIKE:
Helps to control and make my breakouts less frequent.
Absorbs quickly.
Cute and convenient packaging.
WHAT I DON'T LIKE:
Did not lighten dark spots/post-acne marks.
Doesn't really help to dry out or cure existing acne.
Price: PHP399.00, Purchased from: The Landmark (Makati)