More than once have I mentioned my curse of dry lips. You can imagine my frustration, as well as the extra maintenance I have to keep up in order to prevent my lips from becoming flaky and cracked. Aside from having to apply at least a hundred layers of lip balm before bed, I also need to reach for a lip scrub two or three times a week. I've used a number of lip scrubs before, but none have been very effective and alas, I still tend to wind up with flaky lips afterwards.
But a few days ago I suddenly remembered something Sabs from
Musings of Makeup Maven
had written. It was an
entry
that featured
Nature Republic's Mango Bebe Lip Scrub
. It seemed like such a great product so I immediately dropped by the nearest Nature Republic stall and picked it up for myself.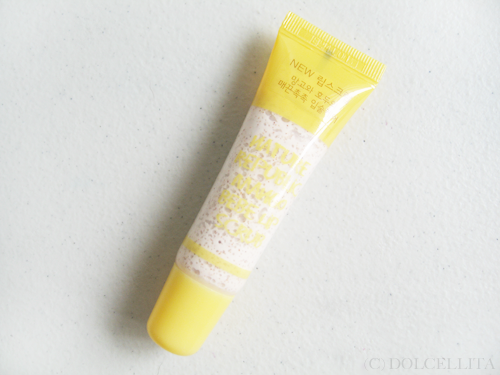 The Nature Republic Mango Bebe Lip Scrub is housed in a mostly clear squeeze tube. This is my first time using a lip scrub in this kind of packaging, so I'm loving how convenient it is to bring along if need be.
The name of the product and the product information written behind it is a nightmare to read though as the font is way too light in color, especially against an already light background which is the color of the scrub itself inside. Aside from the name, the product info is in Korean so I wouldn't be able to understand it anyway. But thankfully
this
Ebay page has translated it:
Contains 1% mango butter. Walnut particles gently remove dead skin cells on the lips. Vitamin A nourishes lips. Alpha Carotene boosts lip elasticity.
It's a simple lip scrub though, so that's all you need to know in the end I think. I do like how it contains 'walnut particles' though, also the first time I've heard of it being used in a lip scrub, and it's apparently supposed to help improve lips' elasticity.
The cap is a secure, twist off type and like many lip balms or essences in a squeeze tube the product is dispensed through a slanted tip which makes application easier. Controlling the amount of product released is easy to do also, though I'm sure it'll become a nightmare once I've used most of this up.
Using two pea-sized amounts, one for my upper lip and the other for my bottom lip, I dispense the scrub onto my fingers and gently massage around for a few minutes. I prefer to squeeze the product onto my fingers to keep the tip of the tube clean and germ-free. Once I'm done massaging, I simply rinse it off. It doesn't have an unpleasant aftertaste and your lips don't feel waxy like I've experienced with other lip balms.
-----------------------------------------------------------------------------------------
So far this has been the best lip scrub I've tried to date! Even when my lips are super dry to the point that they're flaking like crazy, this instantly hydrates them and makes them super soft and smooth. Even all the pesky flakes of dry skin disappear! The only thing I wish this had now was a fruity, mango scent.
WHAT I LIKE:
Cute and convenient packaging.
Instantly hydrates, smoothens, and softens lips.
WHAT I DON'T LIKE:
It's difficult to read the name and product info.
Product might be difficult to get out of the tube once there's only a small amount left.

Price: PHP235.00, Purchased from: The Landmark (Makati)