My search for the perfect (day) moisturizer still continues. I have yet to find one that is light enough that it absorbs quickly so that I don't have to wait ages before moving onto my makeup, but also moisturizing enough to take care of the pesky areas on my face that end up flaking and causing my makeup to cling onto them in dry patches. Of course, for it to have added SPF would be a lovely bonus too.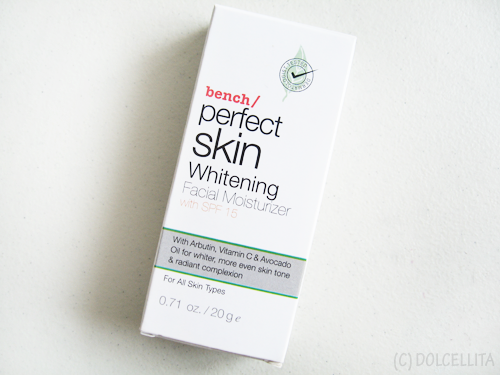 With that, I decided to give another quite recent find of mine a shot: Bench's
Perfect Skin Whitening Facial Moisturizer
.
This is one of the products from their 'Perfect Skin' line that also consists of a face wash, toner, and serum. I heard the entire line is specially formulated for men, but I've only seen that info come from one source and it isn't specified on the packaging or anywhere else so I'm not entirely sure that it is.
A gentle facial moisturizer that helps whiten skin and reduces dark spots. It has SPF 15 that protects skin from harmful UV rays.
Enriched with Arbutin, a whitening agent that optimizes and evens skin tone for visibly lighter and fairer skin.
Contains Vitamin C, a powerful antioxidant that restores skin's radiance and natural glow.
With Avocado oil, known for its moisturizing and nourishing properties, it assists in the rejuvenation of the skin.
The product comes in a simple squeeze tube that holds 20g of product. It's quite small and I managed to finish the entire thing within 2-3 weeks (using it daily, once a day), but it is very affordable. Enough so that you can stock up on this and buy a couple or even a few tubes at once if you like it.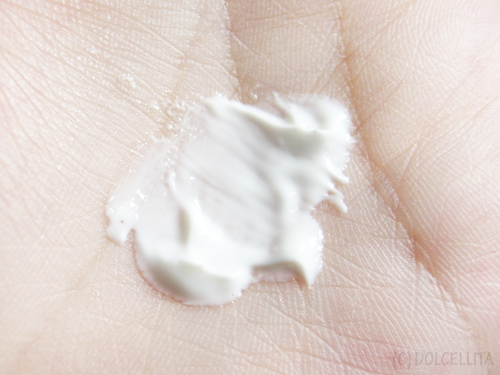 This is generally the amount I use every morning. When my skin is feeling drier than usual, I add a bit more to it.
The texture is like your typical moisturizer and isn't too thick which makes it perfect for day use. It absorbs into the skin quickly, usually 5-10 minutes for me even in a non-airconditioned environment, but of course it will take longer if you're somewhere hot and humid. The scent reminds me a lot of sunscreen, which I personally don't mind especially since it's not very strong. I didn't notice any visible whitening or brightening effects as of yet either.
----------------------------------------------------------------------------------
It does moisturize my skin well, but it's just not enough for the more dry areas of my face like my cheeks and around my nose sometimes since I still experience some of my makeup makeup clinging onto dry patches or there's still some flaking.
However
, I did find a way to remedy this somewhat by using it in tandem with iWhite Korea's Facial Cream (review to be posted soon). Applying the latter right after the moisturizer's been absorbed really helps.
So far though it's the most effective day moisturizer I've used and I'm already planning to get another tube asap, but I'll still be on the lookout for better ones!
WHAT I LIKE:
Very affordable.
Absorbs into the skin fully in a short amount of time.
Contains SPF15. Enough protection for a couple of hours under the sun if worn alone.
Does not make my skin/t-zone oilier.

WHAT I DON'T LIKE:
Not moisturizing enough for me overall when my skin is especially dry, but I have found a way to remedy this (using in tandem with iWhite Korea Facial Cream cream or double moisturizing).

ANYTHING ELSE:
I wish this either came in a bigger tube or was at least available in other sizes.
Smells a lot like sunscreen which some may not like.
No visible results yet concerning whitening or brightening.

Price: PHP52.00, Purchased from: Bench (Glorietta 3, Makati)