I love cherries and cherry themed products. I also love the color pink. Combine both and you definitely have a winning combination for me, so here's one of my most favorite products from Etude House, their Fresh Cherry Tint lip tint in the shade "PK002 Cherry Hot Pink".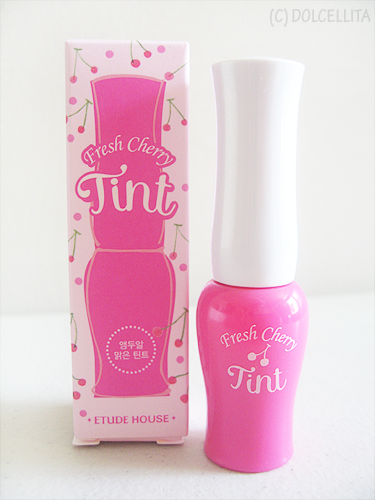 Product description:
Tint promotes moist & shiny cherry lips with a creamy, smooth texture.
L: old Fresh Cherry Tint ad, R: newer Fresh Cherry Tint ad
What I have is the old packaging of the Fresh Cherry Tint line. As far as I know, the shades are still the same or very similar, it's just the packaging that's changed, and in the newer line they removed one of the shades so there's now three instead of four.
Personally I find the older packaging cuter. It's unique looking with its curved shape whereas the new one looks a lot more ordinary and emphasizes the whole cherry theme less.
The wand has a soft, spongy doe foot applicator. I usually prefer these to have a pointed or tapered end for more precise application for when I use it on my lips, but since this isn't a highly pigmented product then I have no complaints.
I'd still take care in applying though as you'll end up leaving a stain around your lips if you don't apply this carefully!
NOTE: I know this is an all-purpose tint, so it can be used for both lips and cheeks, but I don't use it on my cheeks because the fact that it's quite sheer means it's not really visible on my fair skin, no matter how much I put on. I also don't use cheek tints, at all, and always use a powder blush. Therefore, I'll only be reviewing this as a lip product. I'd still love to hear about what you guys think of this as a cheek tint though so please feel free to let me know via a comment!
Lip swatch
The product gives my lips a natural, pink-ish tint. Of course,
how
pink it comes out will still depend on the natural color of your lips. It also makes them look more healthy and hydrated which is great for someone with dry lips like me.
Color application can get a little uneven, again depending on your lips, and you can see some areas which are slightly darker but honestly, it's not too noticeable and doesn't bother me.
The formula isn't drying at all, a little moisturizing actually, but some of the color will emphasize any existing dry patches by clumping around it so I suggest a good lip balm or lip scrub prior as always. Wear time is like your run of the mill lip tint, which I find pretty good. It fades only a bit after eating and drinking. Just note that the heavier (or the oilier, really) the meal, the more it fades.
-------------------------------------------------------------------------------------------------------------
Overall, I find this a great tint for everyday and I love how healthy it makes my lips look while giving them that natural tinge of pretty pink.
WHAT I LIKE:
Cute and sturdy packaging.
It has just enough pigmentation to leave a visible yet still subtle tint.
The formula is slightly moisturizing and non-drying.
Dual-purpose, can be used on both your lips and cheeks.
WHAT I DON'T LIKE:
It has an almost bitter taste when you lick your lips.
It's too sheer to be used on my cheeks and comes out very faint when applied.
Price wise, it could do with being a little cheaper.
ANYTHING ELSE:
The product is scented like cherry candy. I, personally, love the scent though.
Price:
PHP348.00,
Purchased from:
Etude House (SM Megamall)