Like many women out there, one of the things I just can't find myself being able to do is confidently and freely expose my underarms like celebrities seem to do so easily. We have to face facts: we're not rich celebrities that can have every inch of our bodies altered to perfection, and that includes perfectly white and smooth underarms.
However, Belo Essentials seems to have given us the next best thing with their line of whitening, anti-perspirant deodorants. Dubbed the "
Belo Beauty Deo
", it doesn't only promise to whiten or lighten underarms, but solve all problems such as 'chicken skin', redness, excess sweat and more!
Product description:
From the Belo Authority, a revolutionary anti-perspirant deodorant that effectively whitens underarms in just 7 days!


Expertly formulated to control darkening before it starts

Minimizes pores and soothes skin from plucking and shaving

Hypoallergenic and dermatologist tested
Prior to using this product, I wanted to achieve three things: whitening, smoothening, and of course the controlling of sweat and odor. So following its claim to work in seven days, I decided to give it a test run.
Local actress and model Anne Curtis-Smith endorsing the product
The deo line was released some time in 2012 and comes in two variants: roll-on (40ML or 25ML) and aerosol spray, the latter beng the newest variant released only just this year.
25ML roll-on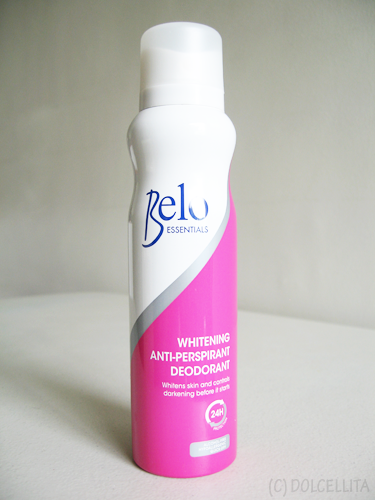 140ML aerosol
I personally prefer the aerosol spray because I've never been a big fan of roll-ons as they always either seem to stain my clothing and/or take forever to dry. Cue me needing to keep my arms up as much as possible in the bathroom for at least five minutes to wait for it to dry! The Belo roll-on wasn't any different in terms of drying time, but so far it hasn't stained any of my clothes which is great.
So did this 'beauty deo' do as it claimed for me? After using it twice a day everyday for one week, here's what I noticed...
I saw about 10%-20% visible lightening of my underarms. Nothing drastically noticeable, but enough for me to see the slight change.
The hair that grew back was much softer and therefore, made hair removal (I alternatively wax and epilate) easier.
I've never had rough or dry underarms to begin with, but I did notice my underarms became a little smoother.
Controls sweat the whole day. Even in the midst of a blazing hot, tropical summer or after a hard day at the gym, at most my underarms would become a little damp. The product claims "24 hour protection" too, but I have yet to test this claim. I highly doubt it can hold up for that long, particularly if you sweat easily like me, but who knows?
Always remember that the effects of any product will differ for every person, so this may prove more or less effective for you compared to me.
WHAT I LIKE:
It managed to lighten my underarms a little and made them smoother.
It effectively controls sweat the whole day and therefore, odor.
My hair grew back finer and softer and made hair removal easier, especially for someone with sensitive underarm skin like me.
It doesn't stain clothing.
All the variants are affordable.

WHAT I DIDN'T LIKE:
The aerosol can sometimes leave white 'marks' on your underarms if you spray too close and/or too much, as if you put on baby powder there and didn't remove it all.
The roll-on takes some time to dry properly. At least 5-10 minutes for me.

Price: (to be edited), Purchased from: Watsons (SM Makati)